about
GENERAL INFO
Address:
 103 Boston Post Rd., Sudbury, MA 01776
Phone number:
978-261-5790
Fax number:
 978-261-5638
Lunch Buffet: 
Tuesday-Sunday 11:30-3pm
A la carte lunch options available on Monday lunch.
Lunch Buffer Prices:
Tuesday - Friday: $16.99, Sat & Sun: $19.99
Cuisine:
 A blend of traditional and modern Indian dishes.
Delivery:
 Within 5 mile radius
Bar:
 Yes, Full Liquor
Credit Cards:
 All major credit cards accepted
Dress Code:
 Casual to Semi-Formal
Parking:
 On site parking lot
Directions
: Located on Route 20 (Boston Post Road), right in the heart of Sudbury.
Very easy access from route 95 (exit 26).
Hours of Operation:
Everyday: 11:30am-3pm & 4:30pm-10pm
Soul of India was founded in January of 2013 as a collaboration between Chef Peppino, Chef Ladi and partners from other renowned restaurants. Over the years we have built a reputation for possibly the best Indian food in Massachusetts, as represented by the many awards that we have received over the years.
We strive to provide a mix of authentically traditional Indian fare with a modern flare and offer a unique menu not previously seen in the Boston area.
Our menu, paired with excellent service and a wonderful ambiance have quickly created a very unique Indian dining experience.
At Soul of India we do not strive to meet standards, but to exceed them. You will notice the difference to moment you walk through our doors.             
---
CHEF LADI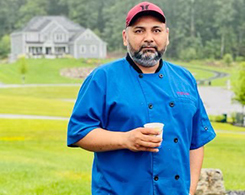 Chef Ladi has been in love with food since an early age, which quickly translated into a love for cooking. Cooking is an art, and just like any art it lets him express himself in a creative manner.
His cooking career is a long one, but highlights include learning cooking in places such as London and Bombay, where he studied at the Novotel Hotel under the renowned Chef Ranveer Brar.
More recently he has also been mentored by Chef Peppino, of Da Vinci Ristorante in Boston.
The dishes on this menu are an accumulation of all of Chef Ladi's experiences and unique flavors. Enjoy!
---
CHEF PEPPINO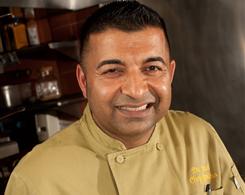 Chef Peppino (Shingara Singh) is Executive Chef and Co-Owner of Da Vinci Ristorante in Boston and now often features at Soul of India.
Born in India, Peppino moved to Germany at the age of sixteen and lived with an Italian family in the German city of Hanover . Through this generous family who owned a renowned Italian restaurant named Leonardo Da Vinci, Peppino was completely immersed in Italian culture and language.
Here Peppino trained with the best chefs, learning everything about traditional Italian cooking. At the age of twenty-three, Peppino moved to Boston where he continued his love for cooking.
He applied his experience at the House of Blues in Cambridge in the 1990's. In 1997, Peppino was offered the position of Executive Chef at La Campania Restaurant in Waltham where he developed a tremendous following of loyal fans and established a name for his exceptional cuisine. After ten years at La Campania , Chef Peppino opened his own restaurant in Boston with Wioletta Zywina. Shortly after the opening the restaurant, Da Vinci was recognized by the James Beard Foundation as "the notable new restaurant in Boston."